When the Harry Pottle Collection was initially brought to the University of Redlands in the care of Piers Britton, it was with the intent of making Mr. Pottle's remarkable and influential work accessible to students and enthusiasts worldwide. Seriously Strange: Harry Pottle in Avengerland was envisioned as a first step in this process. On Monday, May 3rd 2010, four of Harry Pottle's original designs for The Avengers went on public display in the Armacost library at the University of Redlands. The exhibit hung for a month, was widely publicized on the web and in print, and brought countless visitors to the University.
Based on the success of the physical exhibit, this website was created as a way of broadening the visibility of material that visitors experienced at first hand in May 2010.
The Harry Pottle Collection at the University of Redlands in Armacost Library
COMING SOON!: View the Hudson/Pottle Archive on the web!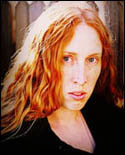 Liz Brooks ('10)
Curator
Seriously Strange: Harry Pottle in Avengerland was conceptualized and curated by Liz Brooks as her capstone in Art History, and her work on the project and associated collection-building and university outreach earned her Departmental Honors. Ms. Brooks was invited back to the University of Redlands in January 2011 to continue her work on the "Pottle Project", establishing this website and organizing the digitized version of the Hudson/Pottle collection, which can be accessed via the Special Collections page of the Armacost Library website. For more information on Liz, please visit her website.

Ryan Sweet ('08)
Graphic Designer
Ryan Sweet was initially approached to refer the curator to a graphic designer willing to work on the project. Instead Ryan generously gave his own time, and produced imagery that was widely praised for the exquisite way in which it complemented and enhanced Harry Pottle's work, and evoked the distinctive ethos of The Avengers.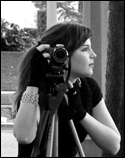 Erica Braymen ('13)
Web Designer/Programmer
A graphic design student with a particular emphasis in website design, Erica Braymen was brought onto this project to help carry the original exhibit into the digital realm. She worked in tandem with Ryan, converting his visuals into an accessible, web-based form and synthesizing content for Internet access.
To see Erica's portfolio, please visit her website.

Dr. Piers Britton
Author of Website Content & Custodian of the Harry Pottle Archive
Co-author of Reading Between Designs and current Art History Department Chair at the University of Redlands, Dr. Britton originally proposed an exhibition of Harry Pottle's drawings as a way of raising the profile of the Collection, currently housed at the Armacost Library. For more information on Dr. Britton, please visit his UoR profile.